Photo by Atlantic Lens Photography / Shutterstock.com
By Travelin' Joe Passov
Whether you call it the British Open or The Open Championship, by any name it is golf's oldest major, dating to 1860. This week, it returns to Royal Portrush Golf Club in Northern Ireland, for the first time since 1951. This will be only the second occasion in history that the Open has been contested outside of Scotland or England. One mere glimpse of the host venue will surely yield this question: How did it take so long to come back?
It's remarkable to think that a course ranked in the Top 15 in world could be overlooked, but it may very well be. Diamante course architect Tiger Woods has made numerous trips to Ireland and played many of the trophy links—Waterville, Old Head and the European Club, among others. He's even played multiple rounds at Northern Ireland's highest ranked course, Royal County Down. Yet, he never saw Royal Portrush until this week. Tiger and the rest of the world will discover a truly outstanding test of golf in the next seven days and a truly outstanding golf destination in Northern Ireland .Here's the lowdown on where to play in Northern Ireland, and a tip or two on where to tip one—and where to rest your head after a good meal.
6 Must-Plays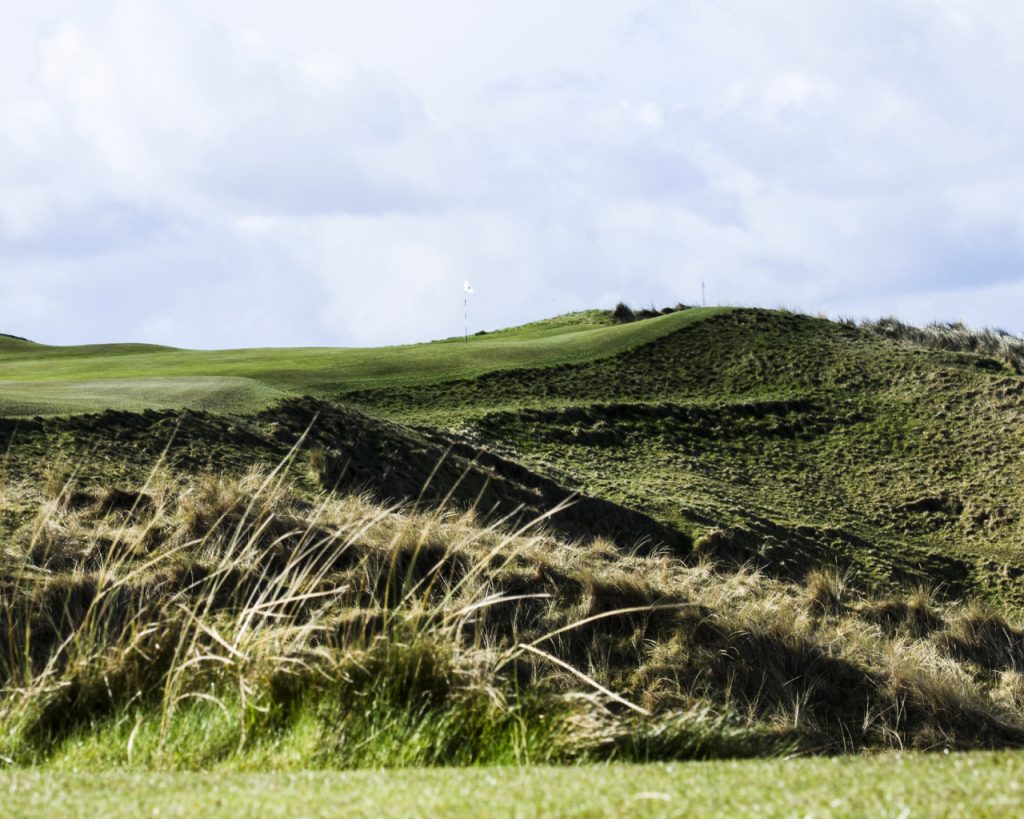 Royal Portrush Golf Club
Situated in County Antrim in the far northeast of Ireland, Royal Portrush dates to 1888. Its present 7,317-yard, par-72 championship layout is a 1932 redesign from British architect H.S. Colt called the Dunluce Links, named for a nearby medieval castle that you may recognize even if you've never been near there—it served as Castle Greyjoy in the HBO series "Game of Thrones."
The superb course design maximizes its setting in the high dunes along the Irish Sea. It features one of the great holes in golf, the 236-yard, par-3 16th, aptly named "Calamity." Amid whipping winds, a fade off the tee will plunge into a 75-foot-deep chasm short and right of the hole. In 2016, two new holes debuted, the par-5 seventh and the par-4 eighth, borrowed from the club's sister course, the Valley, a fine and much-improved test of golf in its own right.   
Perhaps the most memorable hole at Royal Portrush is also the most scenic, the 382-yard, par-4 fifth. Named "White Rocks," the fifth begins at the highest point on the course and provides glorious views of the churning sea and the limestone cliffs that give the hole its name. Beyond lies the Dunluce Castle ruins that give the course its name. On paper, this bunkerless, dogleg-right seems gettable. Sandhills adorned with shaggy rough squeeze the fairway, however, and even with the wind, you're not quite sure whether you want to trust your driver to carry the dune ridge that hugs the right elbow. The approach plays slightly uphill to a green framed by humps and hollows, with a severe drop-off to the right. Long is wrong, as the beach awaits.
While Tiger has to be a favorite to win this year's Open Championship, native son Rory McIlroy will undoubtedly challenge. As a 16-year-old, in July 2005, Rory set the course record, an 11-under-par 61, in the North of Ireland Amateur.
Royal County Down
Just outside of Newcastle in County Down, this 1889 Old Tom Morris layout merges beauty with brawn as with few other courses in existence. Perennially ranked among the world's Top 5 courses, "County Down" as it's often called played host to the 2015 Irish Open with a design that was substantially reworked by H.S. Colt in 1926. The unforgettable par-3 fourth and the par-4 ninth, the latter with its blind drive, feature a profusion of prickly yellow-blooming gorse in spring, bewhiskered bunkers and panoramas of the Mountains of Mourne and the Irish Sea.  
Portstewart
The town of Portstewart in County Londonderry can boast of a course that could well rival its more famous neighbors—at least for nine holes. Portstewart's Strand course is a somewhat schizophrenic layout that rolls out one of golf's most stirring opening holes—and opening stretches, really—followed by an older, duller, flatter back nine. Chief among the unforgettable holes is the beach and dune vista that greets the golfer from high atop the first tee. 2010 U.S. Open champ Graeme McDowell touts the front nine as among the most spectacular in golf, and the course as perhaps the most underrated in Ireland.  Jon Rahm captured the 2017 Irish Open here.
Lough Erne
An inland course in Enniskillen, County Fermanagh in the southwest of Northern Ireland, but one that's worthy of your detour, Lough Erne enjoyed early fame from its association (2009-2011) with its young (and successful) Touring Professional, Rory McIlroy, but today, this 10-year-old Nick Faldo creation can stand on its own merits. As well it should, thanks to a rugged, gorgeous parkland design that juts out into its namesake lake and lodging and dining that was good enough to host the 2013 G8 Summit. Two dramatic par-4s that edge the lake, the seventh and the 10th, are worth a trip alone.
Castlerock
Castlerock's Mussenden Links (named for a nearby cliff-edge temple) is another course that polarizes people due to its inconsistencies—but it's the great holes present that make this a must-play. The course is uniquely sandwiched by the railway, the River Bann and the sea.  Located on the Causeway Coast just minutes from Portstewart, it shares many characteristics with its near neighbor, including bursting out of the blocks with memorable holes. Numbers 1, 2, 4, 7, 8, 9, 10, 17 and 18 are the ones that will linger longest in memory, notably the dune holes on the back nine. Surprisingly, the signature hole is an inland test, the 200-yard, par-3 4th, called "Leg O' Mutton.," It features an elevated green, a stream that bisects the hole and the railway line edging the entire right side. Your most memorable view, however, is from the tee box of the par-5 17th, which drinks in a gorgeous sea view.
Ardglass
NBC/Golf channel broadcaster (and former Ryder Cup player) David Feherty phrased the Ardglass charms nicely in Lawrence Lambrecht's book, Emerald Gems. "Like many of the seaside courses on or near the eastern coast of Northern Ireland, Ardglass has a mixture of terrain," said Feherty. "Some of the holes have a linksy feel to them, while the inland holes tend to have a more pasture-like turf…At a little over 6,000 yards, Ardglass isn't a particulalrly long test, but some days it feels like it. It offers fine views over St. John's Point, and to the west, the Mountains of Mourne. It's possible to run the ball up onto most of the greens, and the second and 11th holes are both fine coastal par threes. If you have time for a leisurely scenic drive, it makes sense to stop there either on the way to, or from, Royal County Down, if only for a pint in the clubhouse."
Indeed, the clubhouse is a converted castle that dates to the 1400s. Don't get too comfy before the round. You might never want to venture out onto the course.
Stay
The Bushmills Inn, Bushmills, Co. Antrim
An ideal Causeway Coast location puts you a few Tiger-like drives away from Royal Portrush, the Giant's Causeway, Old Bushmills Distillery and Dunluce Castle. Among the distinctive amenities is the Gas Bar, a cozy hangout for your Guinness or whisky fix that's still lit by old-fashioned gas lamps.
Slieve Donard Resort & Spa, Newcastle, Co. Down
Located adjacent to Royal County Down, the red-brick façade of this gothic-style property doubled as the "Hotel Splendide," a 2000 movie with Daniel Craig and Toni Collette. A superb spa that overlooks the sea and reliably solid offerings at the Oak Restaurant make this a favorite, even if you're not teeing it up.
Belle Isle Castle, Lisbellaw, Co. Fermanagh
With just eight bedrooms, Belle Isle Castle is not exactly a headquarters for a convention. Set onto an island in Lough Erne, this 17th Century abode features a banquet hall, a minstrel gallery and a cooking school, along with a private boat to take you to Nick Faldo's Lough Erne golf course.
Drink and Dine
The Restaurant at The Bushmills Inn, Bushmills, Co. Antrim
Amid a handsomely decorated space, with an emphasis on regional cuisine, Bushmills serves up local classics such as prime Ulster beef, pheasant and locally caught fish, such as the Dalriada Cullen skink.
Vanilla Wine & Tapas, Newcastle, Co. Down
This contemporary eatery in the heart of Newcastle dishes out inspired cuisine, as evidenced by the steady stream of locals. It's much more of a couples place, rather than the eight-guys-on-a-buddies-trip destination. No matter with whom you arrive, however, you'll admire the décor and artistry in classics such as Angus burgers and Buttermilk wings, as well as distinctive originals such as Iberico Pluma Steak and the Gambas Al Ajillo seafood entry.
Harbour Bistro, Portrush, Co. Antrim
Jon Rahm's favorite casual dining and drinking spot in Portrush is Harbour Bistro, where he dined every night during his 2017 Irish Open win at Portstewart. For those with a hearty appetite, don't miss the Seafood Thermidor—mash, asparagus, monkfish, scampi, prawns, cod, salmon, turbot and lobster sauce.